Members' Viewing Night: Stockport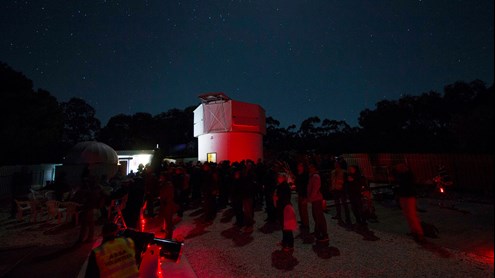 It's always a great experience to observe and photograph the night sky from our dark sky sites, especially in the company of fellow members. You get to meet and socialise with other members, and see different telescopes and equipment in action.

Weather: Always check the ASSA website after midday to confirm the event is going ahead.
COVID-19 Safety: Check the ASSA website at assa.org.au/covid for the current COVID Safety Requirements.
Stockport Coordinator: Lyn Grida (08 8391 5377)
Event info
Saturday 09 Dec 2023
5:00 PM - 12:00 AM
More events like this
December 2023
Sun
Mon
Tue
Wed
Thu
Fri
Sat
1
2
3
4
5
6
7

December 8, 2023

EVENTS TODAY: 18

December 9, 2023

EVENTS TODAY: 29
10
11
12
13
14
15
16
17
18
19
20
21
22
23
24
25
26
27
28
29
30
31