Telescope Loan Program
The Astronomical Society of South Australia launched its Telescope Loan Program in February 2022. The initiative enables ASSA members to borrow a telescope at very low cost for a period of approximately 3 months. The purpose of the program is to support members that do not have ready access to an astronomical telescope. This is one of the many benefits of ASSA membership.
ASSA currently has a pool of 5 Sky-Watcher Classic 200P (200mm or 8-inch diameter) Dobsonian telescopes. The telescopes, which were difficult to source at the time, were purchased with the help of Will Godward at Sky-Watcher Australia (skywatcheraustralia.com.au) and Ron Pinksterboer at the Adelaide Optical Centre (adelaideoptical.net.au). Many thanks Will and Ron for your assistance!
While this program is aimed at the members that do not have a scope this does not mean if you already have a telescope and are a member that you cannot access this program. You may have a different type of scope already but could be considering buying a Dobsonian, in that case you can try before you buy. As long you're a member you can be added to the list.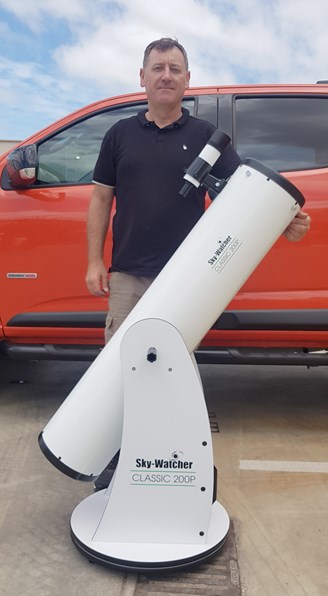 Wayne McLuckie (Telescope Loan Program manager) with Dob#1
How it Works
ASSA members wishing to borrow a loan telescope can add their name to the waitlist by registering their interest with the Telescope Loan Program manager. Do this by sending an email to Wayne McLuckie the Telescope Loan Program manager - tlp@assa.org.au
You will receive a reply email confirming your place on the list and an approximate borrowing period. This may change as on occasion people have asked to be removed from the list opening up borrowing slots for people further down the list.
Loan telescopes are exchanged every three months at a venue or location that the borrower will be notified of. The process is that the scopes will be returned to be checked, cleaned and have any maintenance if required. The following day (or week) the scope will then be ready for collection.
Members allocated a telescope will be contacted approximately 3-4 weeks before the borrowing period and only then will they need to provide a deposit of $75, to be paid as follows:


A non-refundable amount of $25 must be transferred electronically to the ASSA Treasurer upon receiving notification of an available telescope.
A refundable amount of $50 (cash only) must be handed over to the Loan Manager at the time of collection. The $50 deposit (cash) will be refunded upon return of all equipment in good order.
The total deposit will be withheld if the equipment is damaged or pieces are missing.

Details on how to register for the program will be emailed to all members from time-to-time.
Terms & Conditions
Please download and read all the Terms and Conditions (PDF) for the Telescope Loan Program and direct any questions to the Telescope Loan Program Manager – tlp@assa.org.au  Mob: 0433145212