New Members' Night at Stockport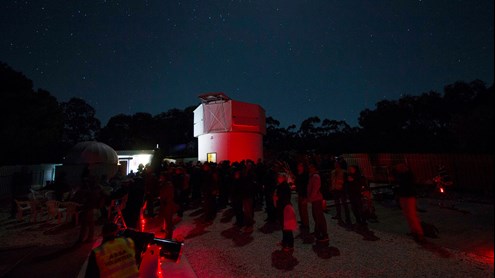 The Astronomical Society of South Australia (ASSA) will be holding a special event for its new members on Saturday 17 December 2022 at Stockport Observatory.
If you have recently joined ASSA or perhaps you have been a member for a while and have never been to Stockport Observatory, then here is your chance. This will be a regular members night, so our newer members can meet our more experienced observers as well as other new members. You are encouraged to bring along your 'scopes and we will help with questions you may have regarding setting up and using them.
During the late afternoon and evening you will have the opportunity to mingle with your fellow members and get the chance to see some of the equipment others have brought along before it gets too dark.
This friendly and relaxed event will commence at 6:00pm. New members will be familiarised with the facility and will then have the opportunity to ask questions about using and setting up a variety of telescopes. Light refreshments will be available to all.
TICKETS:
NOTE: This is a free event for new members only. You must book your tickets at: Eventbrite
PROGRAM INFORMATION:
The New Members' Night at Stockport will provide a friendly and relaxed atmosphere where a range of telescopes, owned by members, will be available to see and ask questions about. New Members are encouraged to bring along their own telescopes and ask lots of questions about their use.
6:00pm

 

Arrival & Check-in at Front Desk*
6:10pm

 

Welcome & Tour of the Facility
6:30pm Familiarisation with ASSA Members' Telescopes

7:00pm

 Question & Answer Session

s

8:00pm

 

End of Formal Program
* Enter observatory grounds from the lower car park gate.
New members are welcome to stay after 8:00pm and mingle with those ASSA members who intend to remain and do some viewing during the night.
IMPORTANT INFORMATION:
STOCKPORT OBSERVATORY is located in the small town of Stockport (6 kms north-east of Hamley Bridge) approximately 80 kms north of Adelaide. It provides a convenient astronomical facility away from the light pollution which surrounds Adelaide. Visit https://www.assa.org.au/stockport for more information and driving directions.
DRIVING HAZARDS (November 2022): Recent heavy rain in the area has created some driving hazards, especially on unsealed roads. Guests are advised to use caution when driving and to only drive to Stockport on the sealed road via Hamley Bridge.
INSECT REPELLANT (November 2022): Guests are strongly advised to apply insect repellant to protect themselves from insect bites. Seasonal weather and recent heavy rain has increased the number of insects in the area.
EVENT GO or NO-GO: Ticket holders MUST check the ASSA website at noon Saturday 17 December to check if the event is going ahead or not before embarking on the long drive.
EVENT CANCELLATION OR POSTPONEMENT DUE TO WEATHER: Excessive cloud cover, showers or rain will result in either the cancellation or postponement of the event and the observatory will be closed (no access) on the night.
Event Cancellation: A full refund if applicable (including booking fees) will be provided.
Event Postponement: The option to attend the event at a later date will be offered using the same tickets. No need to book again.
CAR PARKING: There is a small car park adjacent to the observatory site. Visitors can also park their vehicles on the street but must do so legally and without blocking access to driveways.
COVID SAFETY: To ensure the safety of its members and the public, the ASSA has a number of COVID-19 safety requirements in place at its events. For full details, please refer to: https://assa.org.au/COVID
WHAT TO BRING:
Ticket:

 

Please check-in with Lisa upon arrival

.
Warm Clothing & Enclosed Footwear

: It's important that all attendees dress warmly for the event and wear comfortable enclosed non-slip footwear. Expect temperatures to dip well below 10°C. So please come prepared because it will be colder at night than you might be used to.

Insect Repellant:

 

ASSA may have some insect repellant available on site, but it's always best to bring your own.
Food & Drink

: Tea, coffee, bottled water and soft drinks will be available. You may wish to bring a few snacks for personal consumption.

Binoculars

: If you own a pair of binoculars please bring them along for use under the dark skies. Binoculars are not essential to enjoy the experience.
Event info
Saturday 17 Dec 2022
6:00 PM - 8:00 PM
More events like this
November 2022
Sun
Mon
Tue
Wed
Thu
Fri
Sat
1
2
3
4
5
6
7
8
9
10
11
12
13
14
15
16
17

November 18, 2022

EVENTS TODAY: 118

November 19, 2022

EVENTS TODAY: 119
20
21
22
23
24
25

November 26, 2022

EVENTS TODAY: 126
27
28
29
30