ASSA at Science Alive!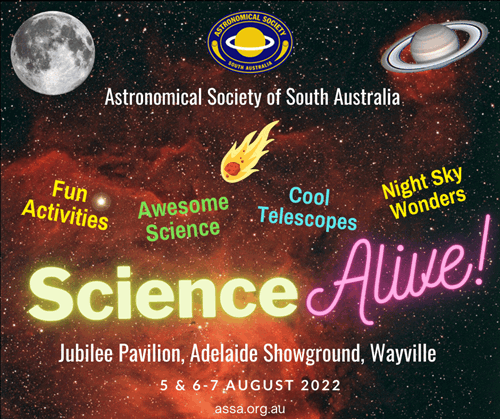 Once again the Astronomical Society of South Australia is ecstatic to be part of Science Alive! on 5 August (STEM Day) and the weekend of 6-7 August.
Make sure you and your family visit us and explore the awesome science of Astronomy and the delight of looking up at the night sky.  
Why not try some the many challenges and puzzles we have on offer and view the mind blowing, award winning images of planets, nebula, star clusters, comets and galaxies captured by ASSA members? "Is the galaxy in that image really 37 million light years away from us?!"
Whether you know little about looking at the night sky or are an experienced observer, bring your questions about finding your way around the sky. Perhaps ask us about what is in the night sky this weekend.
Chat with ASSA members about what you can see with the unaided eye, with binoculars and with a telescope. Look at and chat about the many different types of telescopes available. Do all telescopes work in the same way? They look so different.
Simply come and chat with us about the awesome experience of looking up and how ASSA supports its members and the general public to enjoy and make sense of the night sky.
You can find the ASSA booth in the Jubilee Pavillon. Look out for the large booth with all the telescopes!
See you there!
More info & tickets: https://www.sciencealive.net.au
Event info
Saturday 06 Aug 2022
9:00 AM - 5:00 PM
Jubilee Pavilion Adelaide Showground, Goodwood Rd, Wayville SA 5034
More events like this
August 2022
Sun
Mon
Tue
Wed
Thu
Fri
Sat
1
2
3
4
5

August 6, 2022

EVENTS TODAY: 16
7
8
9
10
11
12
13
14
15
16
17
18
19
20
21
22
23
24
25
26
27
28
29
30
31