Southern Public Stargazing Night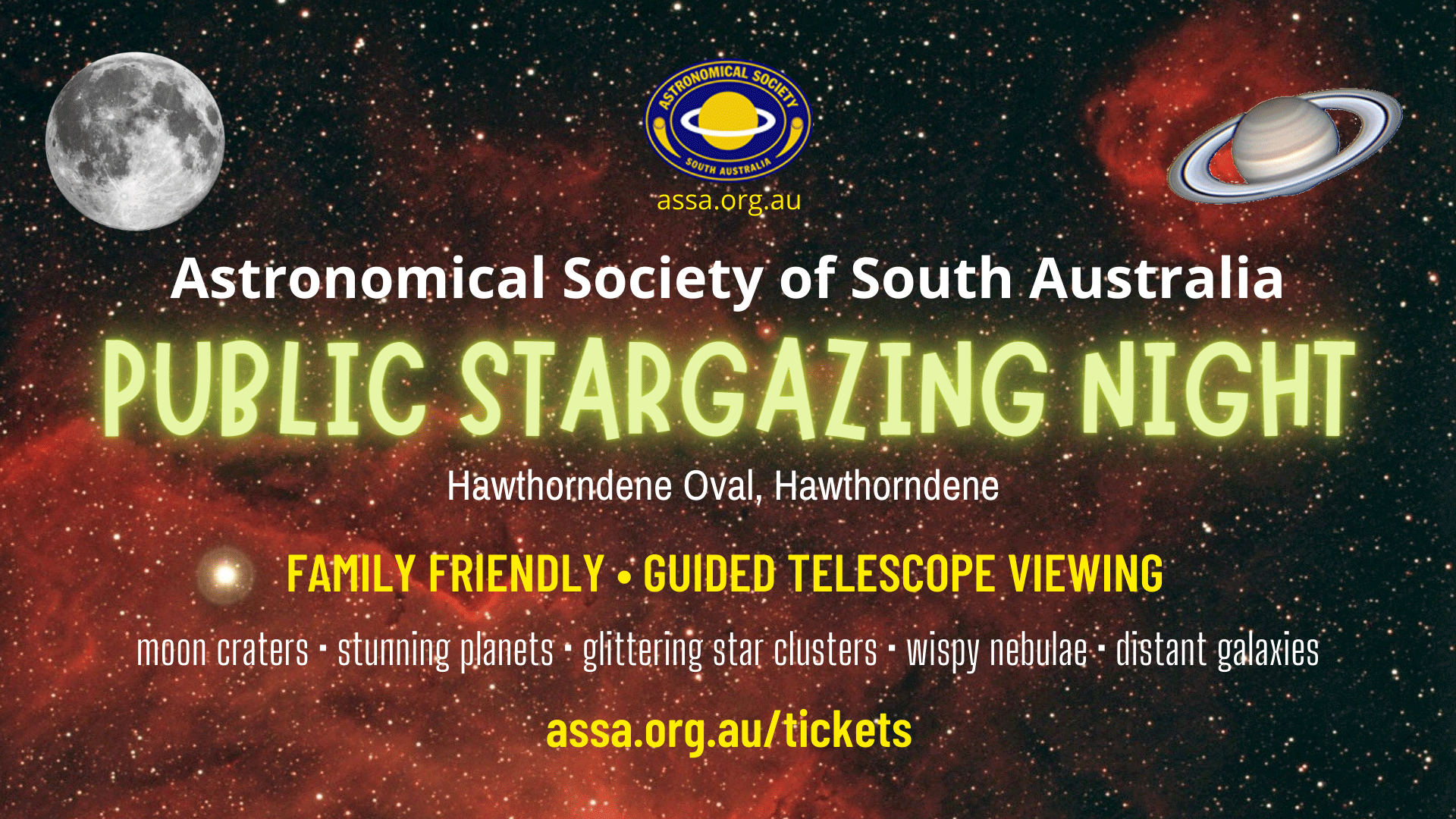 SOLD OUT
The Astronomical Society of South Australia (ASSA) is pleased to announce a Public Viewing Night at Hawthorndene Oval on Friday 25th of November at 8:00pm.
Come along and view the wonders of the Universe using a suite of telescopes provided by members of the ASSA. Attendees will take away a unique and memorable astronomical experience.
Please book early because there are only a limited number of tickets for this event. Book your Tickets at: Eventbrite
The viewing night will feature visual observing through astronomical telescopes and real-time electronic images taken with advanced imaging telescopes.
ASSA members will describe the celestial objects being viewed/displayed and answer your questions. Some telescopes will focus on the planets and perhaps a visible comet. Other telescopes will provide views and images of beautiful nebulae, brilliant star clusters, enormous globular star clusters, supernova remnants, planetary nebulae, and galaxies millions of light years away.
ADMISSION: Adults $10, Children (5-16 Yrs Old) $3, Children (<5 Yrs Old) Free - Book your tickets at Eventbrite
LOCATION: Hawthorndene Oval is in the Adelaide Hills, about 30 minutes drive south from the Adelaide city centre.
CAR PARKING: There are plenty of car parks available on Wattle Ave., next to the oval. There are also limited parking spaces available on Watahuna Ave., opposite Joan's Pantry.
WEATHER ADVICE
:
Excessive cloud cover and/or potential wet weather will result in cancellation of the viewing night.
Ticket holders MUST check the ASSA website, Eventbrite and emails from
noon the the same day
to ensure the event is going ahead before travelling to the site.
REFUND POLICY: Tickets will be refunded if the event is cancelled. Please note that Eventbrite's fee is non-refundable.
COVID SAFETY: To ensure the safety of its members and the public, the ASSA has a number of COVID-19 safety requirements in place at its events. Full details at: https://assa.org.au/COVID
WHAT TO BRING:
Tickets: Please bring your ticket/s with you.
Suitable Clothing & Enclosed Footwear: It's most important that all attendees dress warmly for cold weather and wear comfortable enclosed non-slip footwear. So please come prepared because it will likely be colder at night than you may be used to. 
Insect Repellent: It is advisable to come prepared with some insect repellent.
Food & Drink: You may wish to bring a drink and a few snacks for personal consumption. There are NO food or drink options on site.
Binoculars: Please feel free to bring a pair of binoculars for your personal use. Please do NOT bring any telescopes.
Event info
Friday 25 Nov 2022
8:00 PM - 11:00 PM
Hawthorndene Oval Watahuna Ave, Hawthorndene, SA
More events like this
November 2022
Sun
Mon
Tue
Wed
Thu
Fri
Sat
1
2
3
4

November 5, 2022

EVENTS TODAY: 15
6
7
8
9
10
11
12
13
14
15
16
17
18
19
20
21
22
23
24

November 25, 2022

EVENTS TODAY: 125
26
27
28
29
30