Stockport Observatory Winter Star Party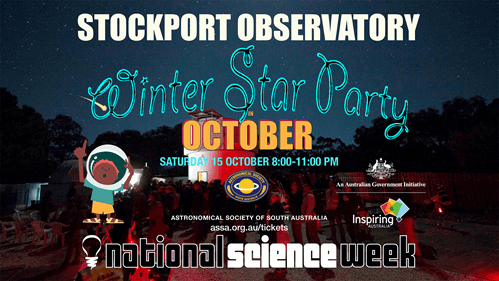 SOLD OUT
Re-scheduled (unfortunately for the third time) to 15 October 2022 after the event originally scheduled on 20 August had to be postponed multiple times. 
The Astronomical Society of South Australia (ASSA) is pleased to announce its Stockport Observatory Winter Star Party (in October) will now be held on Saturday 15 October 2022 (postponed from 20 August).
This is a free public stargazing event held once a year by the ASSA. The event is free for the public thanks to a generous National Science Week SA Community Grant.
This is a ticketed public event with a strict No Ticket, No Entry policy.
Book your FREE Tickets at: Eventbrite
Note: Ticket numbers are limited so please cancel your tickets if you cannot attend.
The Winter Star Party will feature a number of unique and exciting astronomical activities for people of all ages as outlined in the program. Attendees will take away a unique and truly memorable experience of our Universe!
PROGRAM: A mix of activities is planned for guests.
8:00pm Arrival & Check-in at Front Desk* (gates close at 8:30pm)
8:20pm Welcome, Program Overview and Safety Brief
8:30pm Laser Guided Tour of the Night Sky
9:00pm Telescope Viewing (all evening)
9:00pm Other Activities (all evening)
11:00pm Close
* Enter observatory grounds from the lower car park gate.
The Telescope Viewing session will start after the Laser Guided Tour and feature both looking through telescopes and also viewing electronic images captured and displayed in real-time by advanced imaging telescopes.
ASSA members will describe the celestial objects being viewed/displayed and answer your questions. Some telescopes will focus on the spectacular ringed planet Saturn, Jupiter and its moons, and an approaching large Oort cloud comet. Other telescopes will provide views and images of wispy nebulae, brilliant star clusters, enormous globular star clusters, supernova remnants, planetary nebulae, and galaxies millions of light years away.
Other Activities during the evening will include:
Main Observatory Tour (limited to 60 places total)
Activities for Kids

Be an Astro Spy
Be an Astronomer (operate a telescope)

Viewing of member telescopes
ASSA Astrophotography Award 2022 entries video
Feel free to walk around the site to view the different telescopes and to talk with ASSA members. And ask plenty of questions!
STOCKPORT OBSERVATORY is located in the small town of Stockport (6 kms north-east of Hamley Bridge) approximately 80 kms north of Adelaide. It provides a convenient astronomical facility away from the light pollution which surrounds Adelaide. Visit https://www.assa.org.au/stockport for more information and driving directions.
COVID SAFETY: To ensure the safety of its members and the public, the ASSA has a number of COVID-19 safety requirements in place at its events. For full details, please refer to: https://assa.org.au/COVID
WEATHER ADVICE: Excessive cloud cover and/or showers or rain will result in postponement of the star party and the observatory will be closed (no access) on the night. If the event is postponed, an option to attend a similar event at a later date will be offered to people that booked tickets.
Ticket holders MUST check the ASSA website at noon Saturday 15 October to ensure the event is going ahead before embarking on the long drive.
CAR PARKING: There is a small car park adjacent to the observatory site. Visitors can also park their vehicles in the street but must do so legally and without blocking access to driveways.
WHAT TO BRING:
Ticket: Remember... No ticket, No Entry.
Warm Clothing & Enclosed Footwear: It's most important that all attendees dress warmly for the star party and wear comfortable enclosed non-slip footwear. Expect temperatures to dip well below 5°C. So please come prepared because it will be colder at night than you might be used to.
Red Flashlight: Only flashlights emitting red light should be used during the star party because red light helps preserve people's night vision. Red LED Flashlights will be available for purchase at the site. Please do not use white light flashlights, including from mobile phones. Flash photography should also be avoided.
Food & Drink: Tea, coffee, bottled water and soft drinks will be available for purchase on site. You may wish to bring a few snacks for personal consumption. A Sausage Sizzle BBQ will be available.
Binoculars: If you own a pair of binoculars please bring them along for use under the dark skies. Binoculars are not essential to enjoy the experience.
Event info
Saturday 15 Oct 2022
8:00 PM - 11:00 PM
More events like this
September 2022
| Sun | Mon | Tue | Wed | Thu | Fri | Sat |
| --- | --- | --- | --- | --- | --- | --- |
| | | | | 1 | 2 | 3 |
| 4 | 5 | 6 | 7 | 8 | 9 | 10 |
| 11 | 12 | 13 | 14 | 15 | 16 | 17 |
| 18 | 19 | 20 | 21 | 22 | 23 | 24 |
| 25 | 26 | 27 | 28 | 29 | 30 | |