Monthly Meetings & Public Lectures
In-person ASSA monthly meetings resumed in May 2022.
Monthly Astronomy Education and General Meetings are conducted in-person and are live streamed (when the technology cooperates). Meetings are open and free of charge to members and the general public.
The Society holds in-person meetings in The Braggs Lecture Theatre at the University of Adelaide, a large modern meeting venue which also facilitates wheelchair access and live streaming of our meetings. Our meetings are free and open to the public. Visitors are most welcome to attend.
COVID-19 Safety Requirements: 
The ASSA regularly reviews and updates its COVID-19 Safety Requirements for its in-person meetings and events. Changes to COVID Safety Requirements can be made and implemented at short notice. Current ASSA COVID Safety Requirements are available at: assa.org.au/covid 

Members and visitors entering The Braggs Lecture Theatre.
General Meetings
General Meetings start at 8:00 pm on the first Wednesday of each month (except January) and are held in The Braggs Lecture Theatre, University of Adelaide (North Terrace Campus). Please enter The Braggs LT from the western doors (facing the Barr Smith Lawns).
General Meetings feature a main presentation by either a professional astronomer, researcher or members of the ASSA. Presentation topics vary to include a broad mix of content suitable for everyone including the general public.
Please ensure you arrive and are seated well before the General Meeting commences.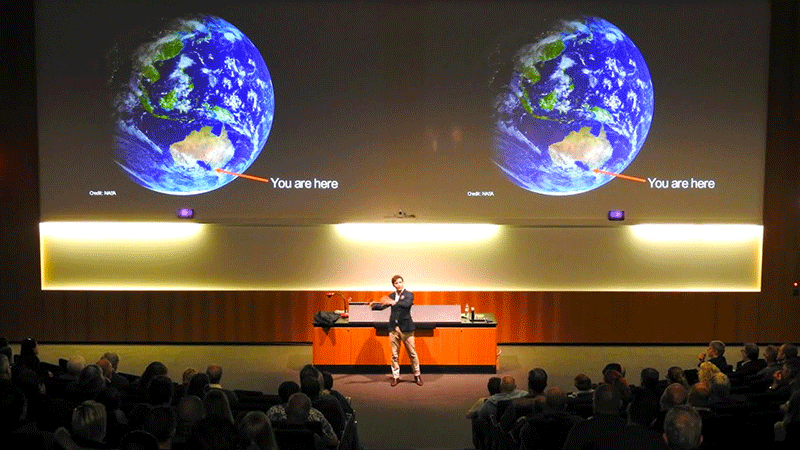 Prof. Alan Duffy presenting on Dark Matter at a General Meeting in The Braggs Lecture Theatre (July 2021).
Astronomy Education Sessions
Astronomy Education sessions are short, focused presentations aimed at the beginner and intermediate level. The sessions cover a different topic each month and are also free for the general public to attend.
Astronomy Education sessions start at 7:00 pm and are held at the same venue as General Meetings.
Event details coming soon.
April 2023
| Sun | Mon | Tue | Wed | Thu | Fri | Sat |
| --- | --- | --- | --- | --- | --- | --- |
| | | | | | | 1 |
| 2 | 3 | 4 | 5 | 6 | 7 | 8 |
| 9 | 10 | 11 | 12 | 13 | 14 | 15 |
| 16 | 17 | 18 | 19 | 20 | 21 | 22 |
| 23 | 24 | 25 | 26 | 27 | 28 | 29 |
| 30 | | | | | | |