About Us
Tue, 11/10/2009 - 15:15 — admin
As a short note, some of the data and pages within this special interest group's website have been recovered from archives from our original website (2009 - 2014) and is in the process of being revamped and updated. You might find that some of the links wont work, and we'll get onto those as we have time.
Thankyou for your interest.
Blair (group co-coordinator)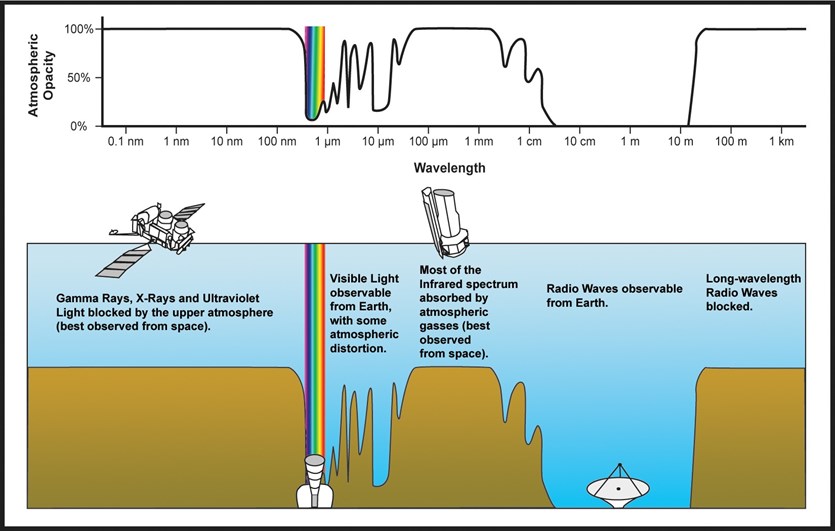 Atmospheric Transparency to different wavelengths of the Electromagnetic Spectrum
 see http://gsp.humboldt.edu/olm_2015/Courses/GSP_216_Online/lesson2-1/atmosphere.html
The ASSA Radio Astronomy group is a special interest group within the Astronomical Society of South Australia.
Aims and Objectives
To facilitate and encourage the sharing of skills, ideas, techniques and knowledge resources to assist ASSA members in receiving radio emissions from space based sources.
To encourage an active forum for people who use receiver/scanner devices be they commercial ham radios, crystal sets or software defined radio and other types of digital signal processing equipment.
To provide support to the beginner and the more experienced in radio reception techniques and in using their own antennas, receivers, signal processing hardware and software.
To maintain a group whose activities are suitable for ASSA submissions/purposes and as a source of capable individuals to assist with other projects.
A bit more about us
Sun, 01/30/2011 - 19:12 — peter
Yes, we really are human after all. Occasionally we get together for a chance to eat, drink and chew the coax for an afternoon.
Our first gathering was held at Peter´s place in the Adelaide Hills on a hot spring day in 2009. We were younger then and too excited to pose for a group photo, or perhaps we were scared to be seen among geeks (it´s always the other guy, not me).
Not to be outdone, John invited us back up to Wurillba in January 2011 for another BBQ and get together. Older, wiser and a little more accepting of any geek status, we took the opportunity to pose for a photo along side one of the new VSAT dishes donated to the group by Newskies Networks. If we look a little scruffy, bear in mind that it was over +40 degrees C in the shade that afternoon and we had taken plenty of fluids that didn't help counteract dehydration.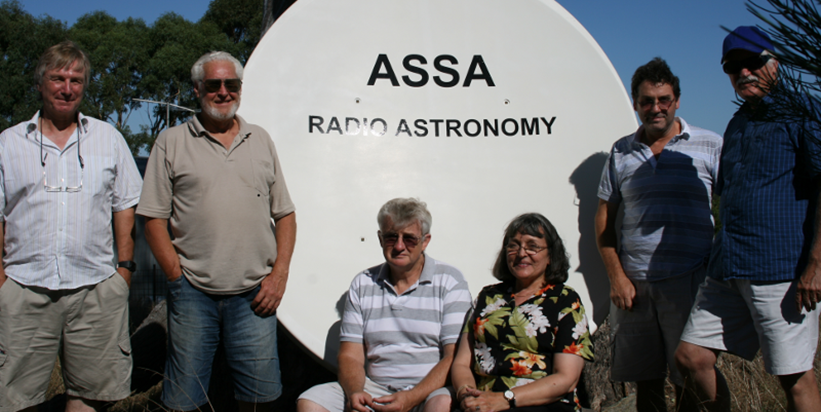 Left to right: ASSA members Berndt, John, Blair, Bonnie, Peter and ASSA President Rob at Wurillba, Jan 2011
Membership on this website
Fri, 11/20/2009 - 10:32 — admin
Membership is restricted to ASSA members and applications to join the ASSA may be submitted via the email facility of the ASSA Member Directory. Any ASSA member is welcome to join this group.
Non ASSA members are welcome to use our resources if applicable.
Links are under the Reference material sub heading