Callisto Data
updated 2021_05_23 by Blair
2021_05_22
here is a rather special type 11 we recorded ,
From Christian Monstein the Principal Investigator (PI)
"We clearly see fundamental radiation and harmonic radiation and both with split band which allows to determine magnetic field at the location of the shock front.
This guy is ideal for training and education of students to derive velocity of the CME and its magnetic field."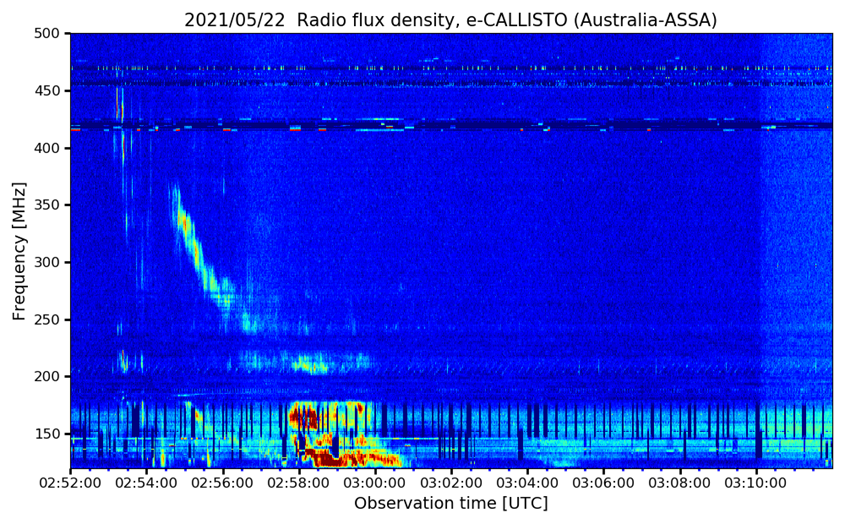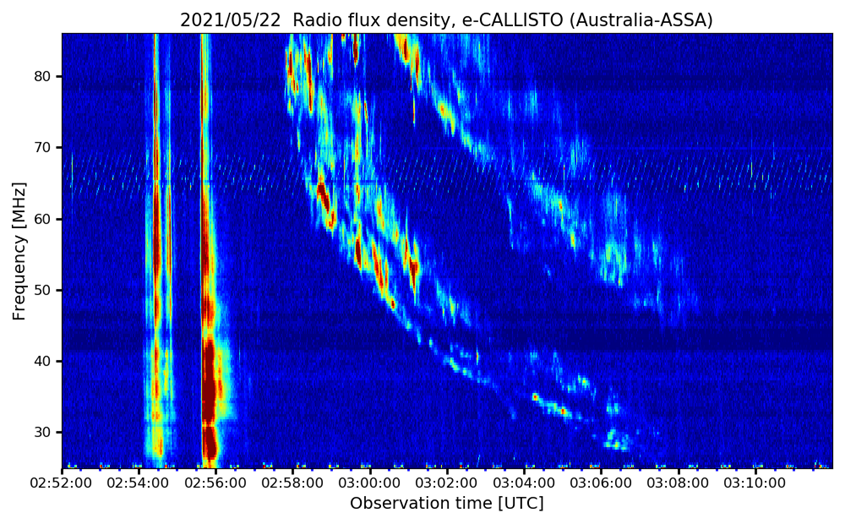 2012_05_16
"U type"?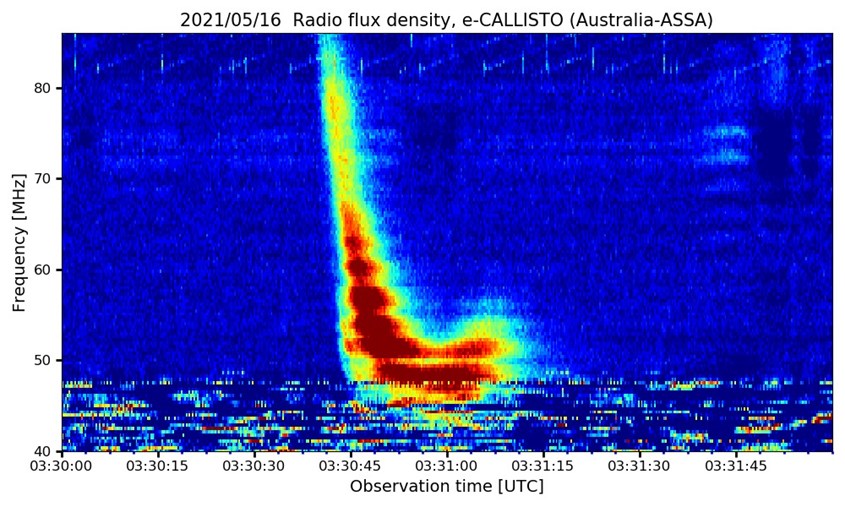 2021_05_13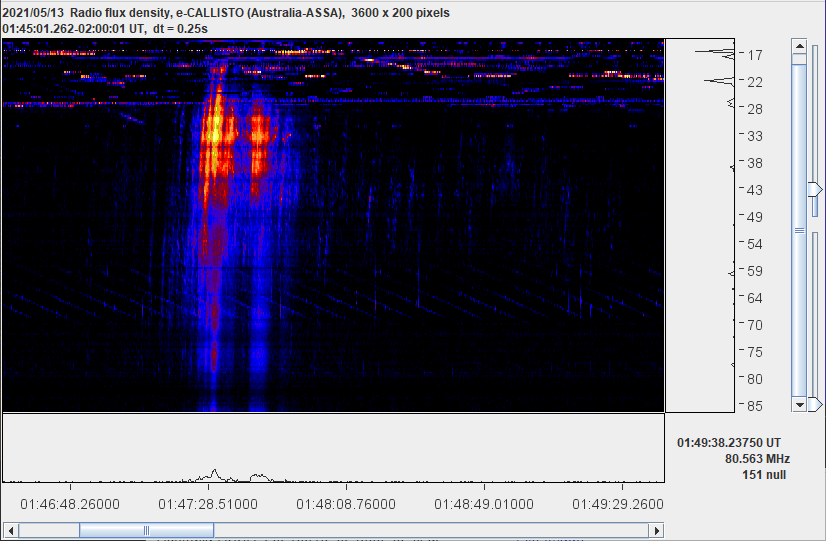 There are a couple of other out bursts also recorded today (it's only 1:30pm local time.!)
2021_05_12
The CME that was forecast to impact Earth did and with perfect timing for South Australia.
Clear(ish) skies revealed a faint aurora around midnight, the K index got to K6 according to the BOM Space Weather Service web site around 1am. The Seismological Association of Australia have a very nice magnetometer installed in a vault at Victor Harbour (TPSO) and the image below shows the changing magnetic field at the vault from the magnetic storm that created the auroral activity.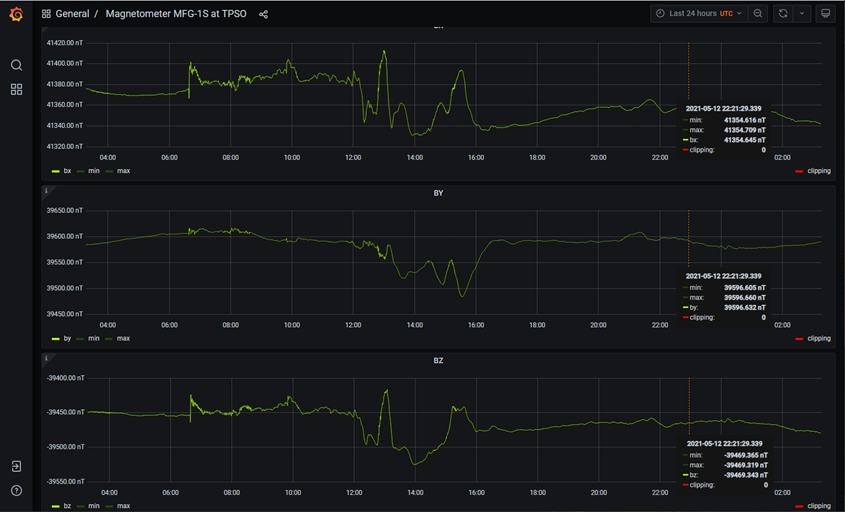 Magnetometer plot of 2021_05_12 from the Seismic vault at Victor Harbour (TPSO)
Some auroral activity was seen in South Australia by ASSA members Tony and Will
Below, Image of this morning's Aurora taken by ASSA member Tony Virgo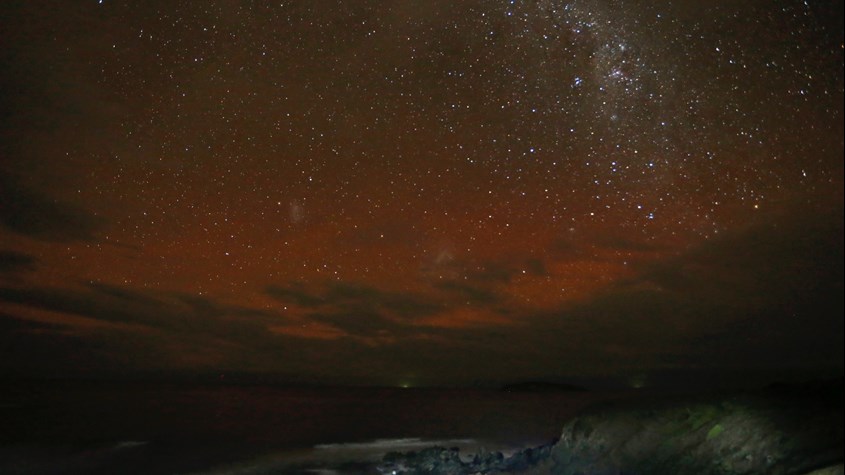 It was seen as far north as Coonabarabran at EPSO seismic observatory by our friend Michael who captured it on his all sky camera (below).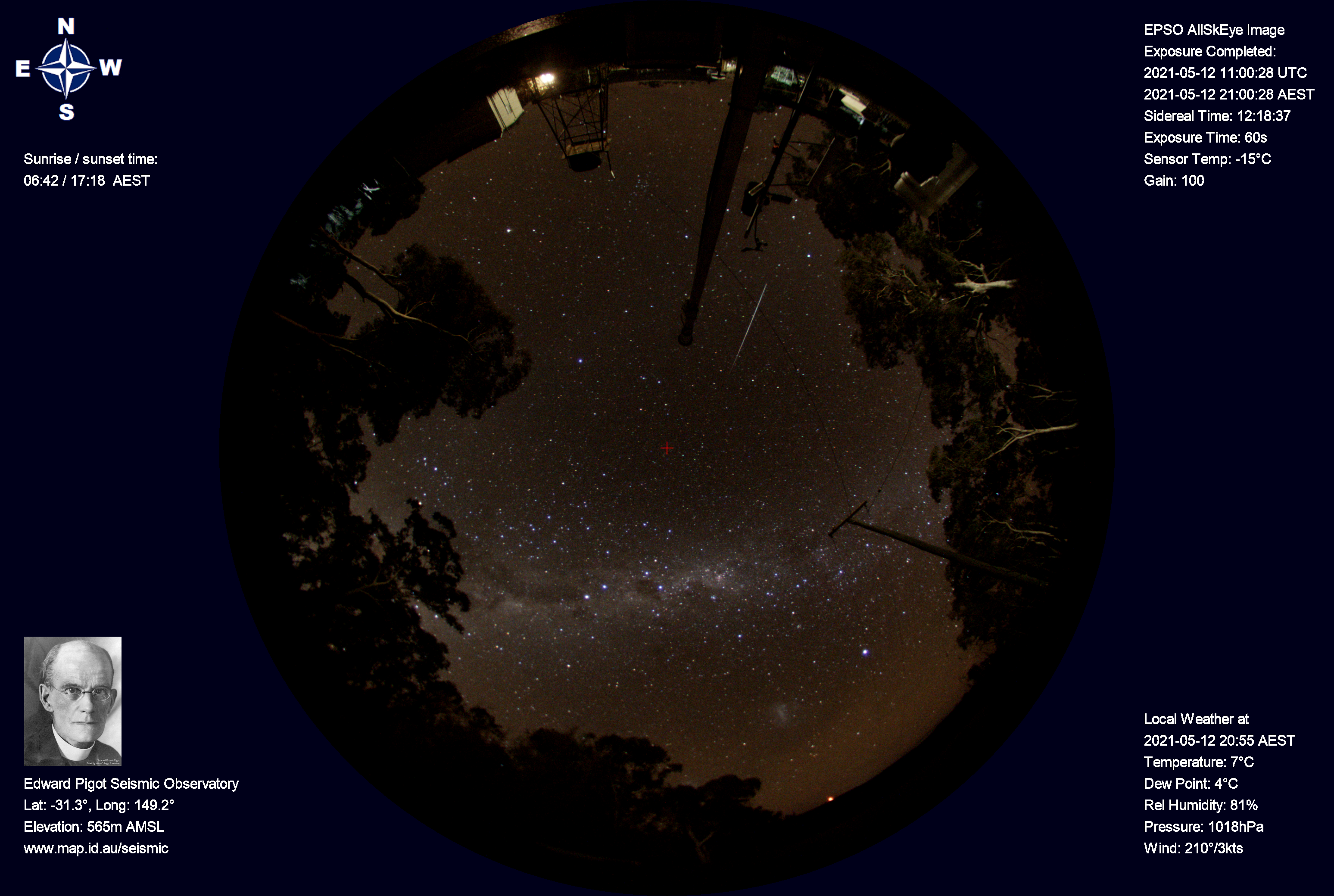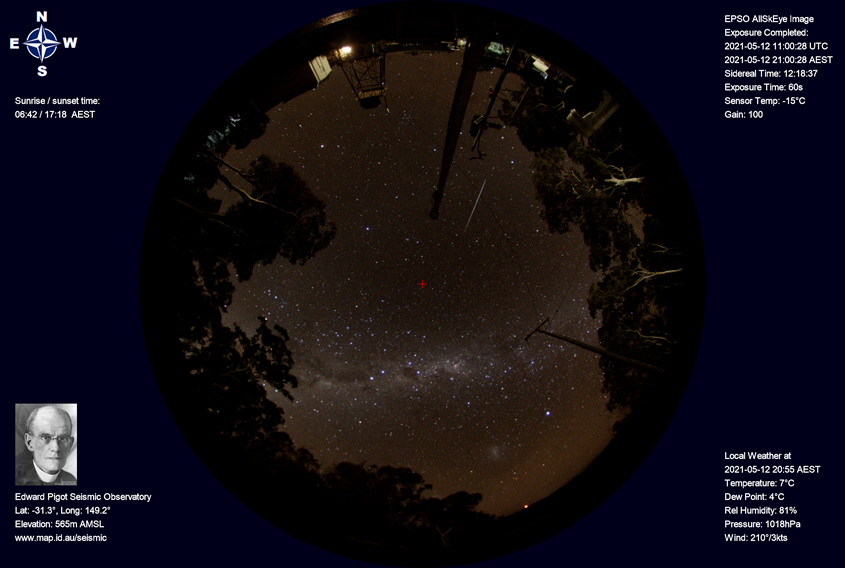 2021_05_10 
Below, A nice outburst we recorded on 2021_05_10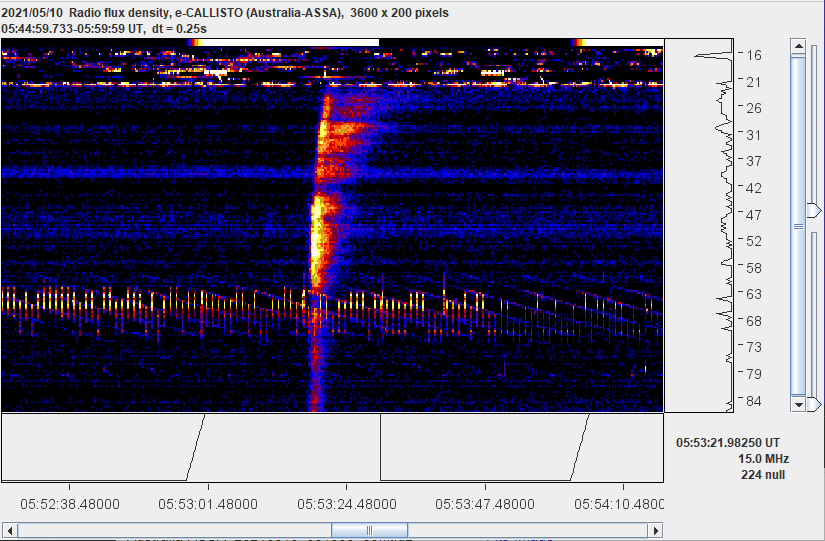 Above image. A nice type 111 on the 2021_05_10 at 5:53UT recorded on our low frequency receivers.
2021_05_07
Space Weather News for May 7, 2021
https://spaceweather.com
https://www.spaceweatheralerts.com

THE SUN HIT EARTH WITH A RADIO BURST: New sunspot AR2822 appeared today and promptly exploded, producing one of the strongest flares of young Solar Cycle 25. The M3.9-class explosion hurled a bright CME into space and hit Earth with a shortwave radio burst. Listen to the static and find out what comes next @ Spaceweather.com.
To listen to what the radio burst sounded like, click the link below
 https://spaceweather.com/images2021/07may21/SolarMay072021_innerflare1924_22.21MHz_Ashcraft_01.mp3
These 2 outbursts were really 'loud' with the 2nd one causing an HF radio blackout over North America, a CME was generated but it did not impact Earth to any great extent. Both are type 111 events.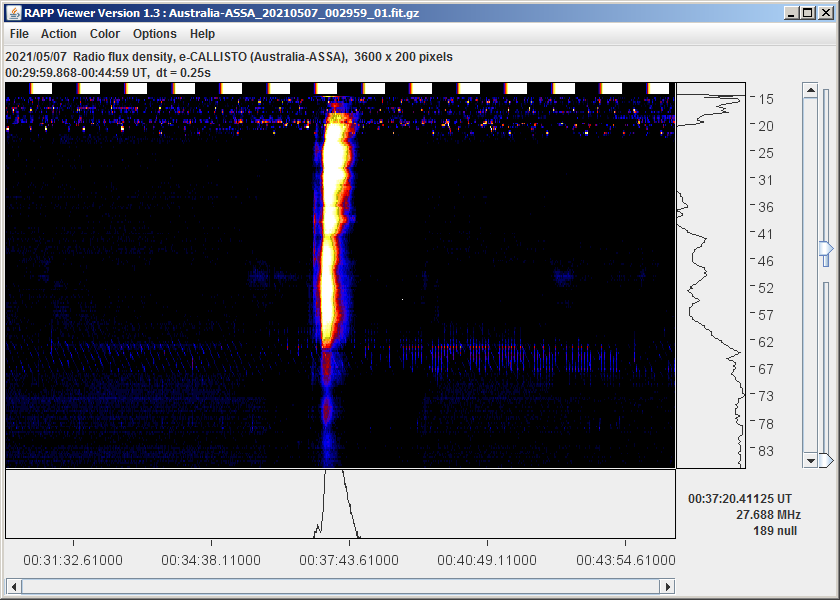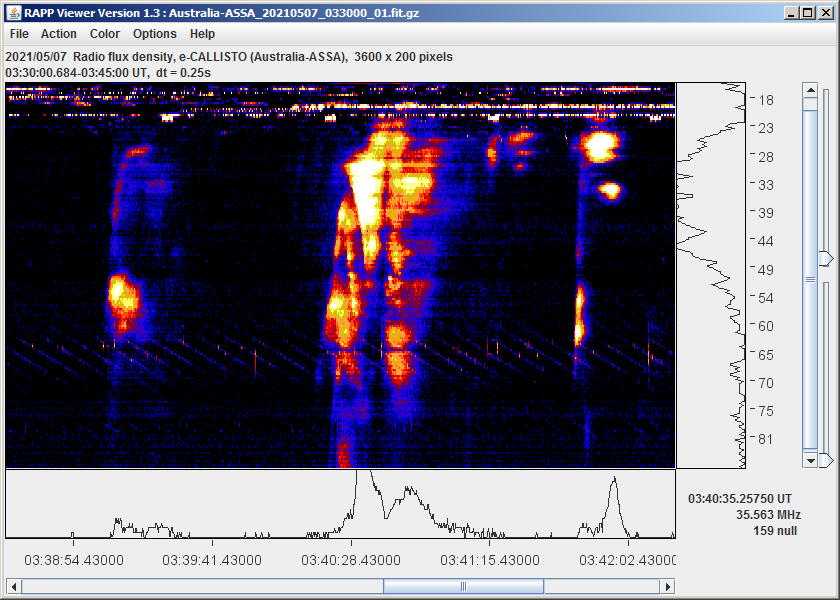 The above bursts types are still under investigation, it is thought that they might be 'reverse' type 111 and  type V bursts.
The following table lists the burst types and a little information on each, (A thankyou to Clint from the ASV for sending me this)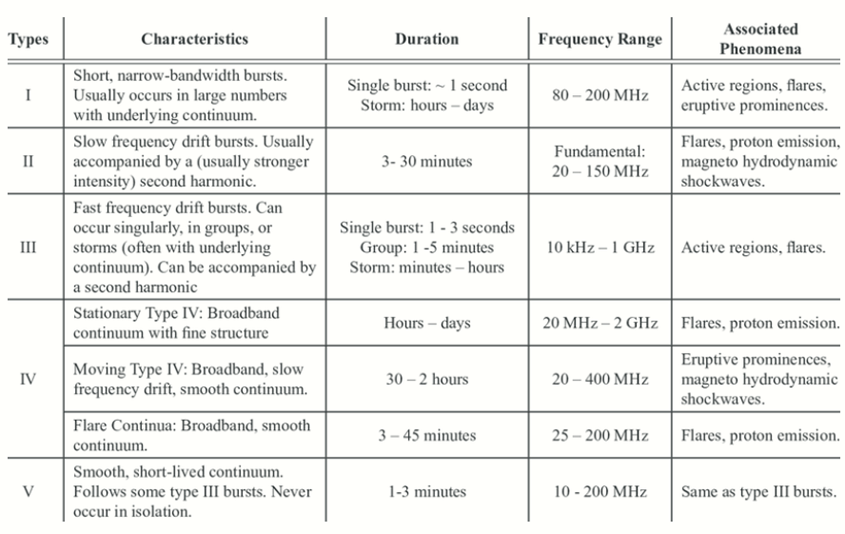 2021_04_23
News Flash (23/04/2021)
On the 20th of April 2021, we received advice from the Principal Investigator, Christian Monstein, that we had 'first light' with our new Callisto Phase 11 low frequency receiver system.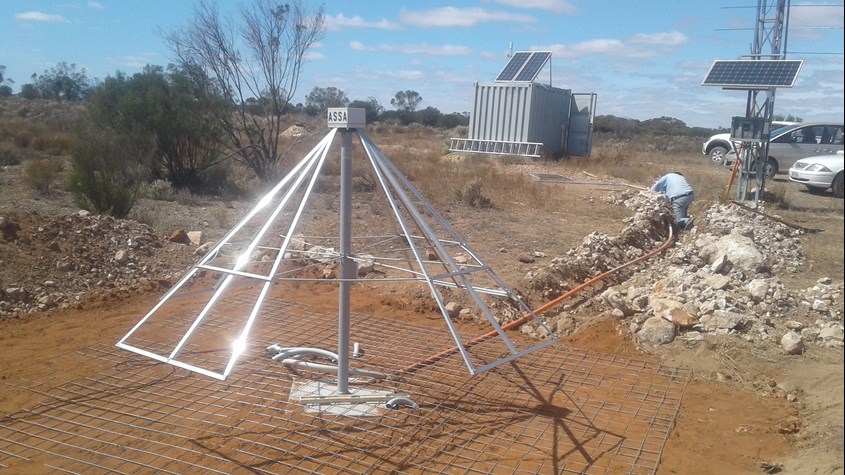 The shiny new Callisto low frequency antenna being installed. (March 2021)
The Sun had become active and generated some radio bursts that were detected by our 2 systems, and that we were the only station within the network to detect some of these and that we detected an outburst that NOAA didn't!
For information on the types of radio outbursts and general information about space weather and why it is important , have a look at the Space Weather Service section of the Australian Bureau of Meteorology
First Light on our Low Frequency HF system
Y axis (RHS) is Frequency in MHz, X axis is time (UT)
2021_04-19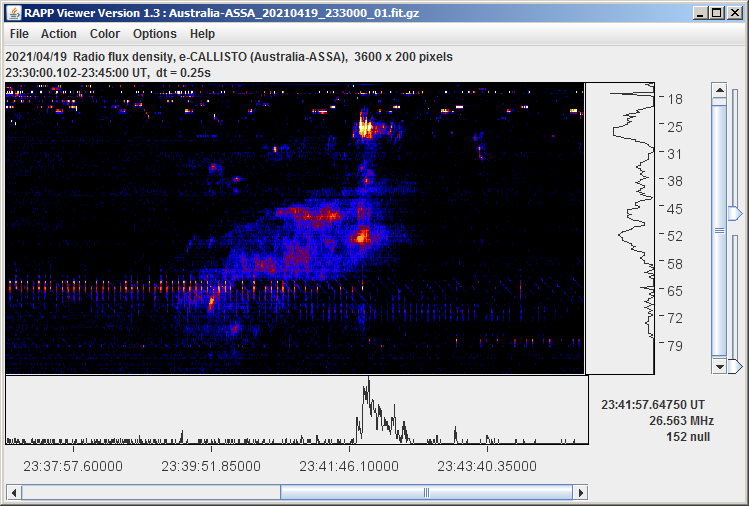 Type 11 outburst with polarity A, note the hot spot (yellow region) around 25 MHz at 23:41:46.10000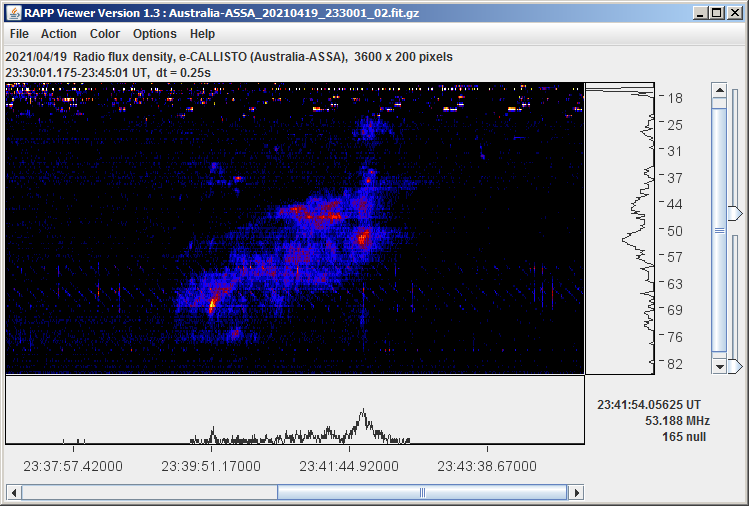 Type 11 with polarity B, notice the difference to the previous image around the 25Mhz (the  hot spot on Pol A is not evident on Pol B)
At the same time, our VHF / UHF system recorded these outbursts.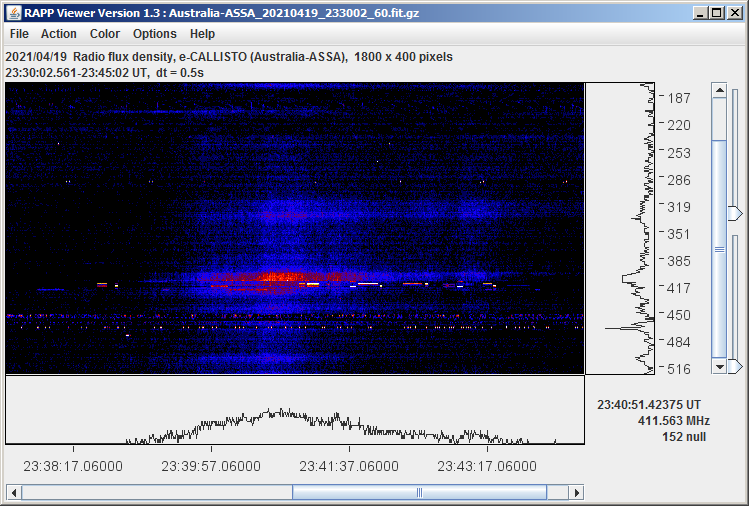 Type 1V outburst on our VHF / UHF system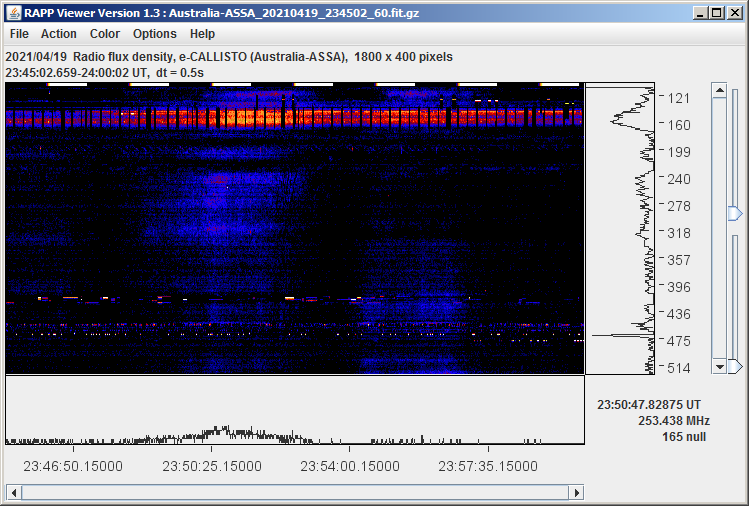 A Type 1V outburst on our VHF / UHF system
2021_04_20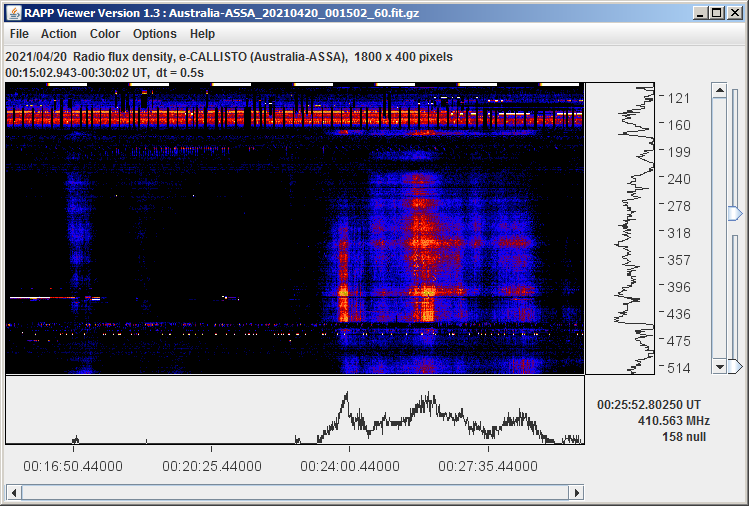 A weak Type 1V at 00:16 UT and a strong type 1V at 00:24 on our VHF / UHF system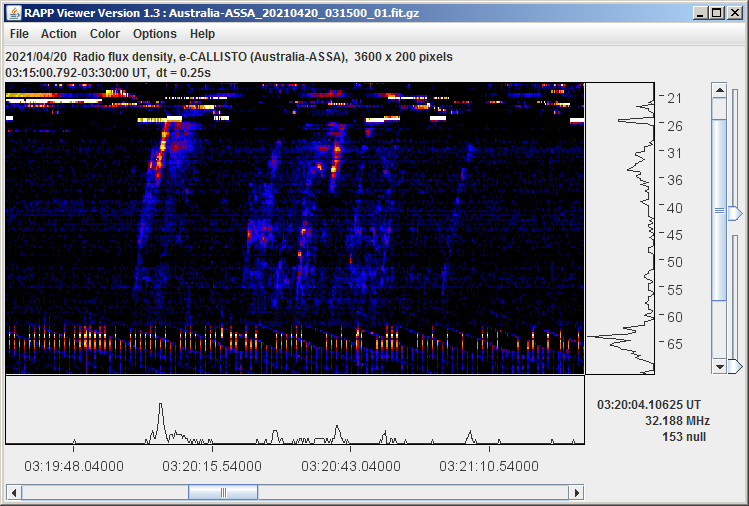 This one wasn't detected by NOAA! on our new HF system.
21st April 2021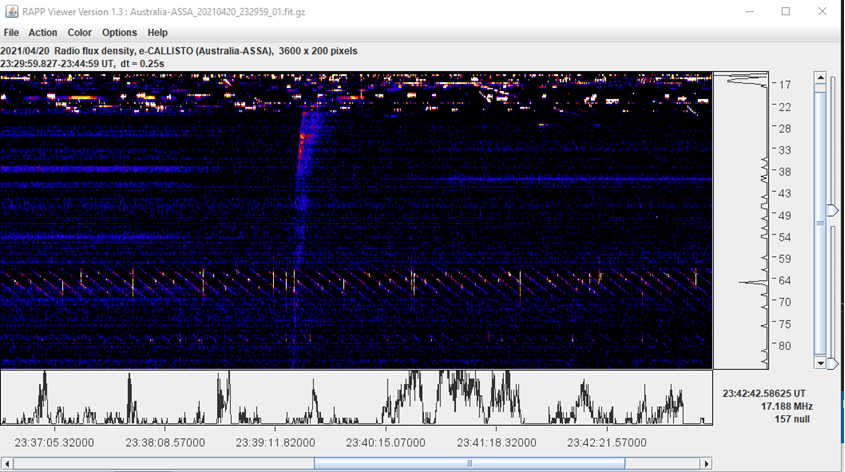 This event was from a large solar flare which resulted in a Coronal Mass Ejection (CME). A magnetic storm of strength G2 is expected to impact Earth late on the 24th or the 25th April which we expect to pick up with our magnetometers.
Space Weather Message Code: WATA30
Serial Number: 186
Issue Time: 2021 Apr 22 1849 UTC 
WATCH: Geomagnetic Storm Category G2 Predicted 
Highest Storm Level Predicted by Day:
Apr 23:  None (Below G1)   Apr 24:  None (Below G1)   Apr 25:  G2 (Moderate) 
THIS SUPERSEDES ANY/ALL PRIOR WATCHES IN EFFECT 
NOAA Space Weather Scale descriptions can be found at www.swpc.noaa.gov/noaa-scales-explanation 
Potential Impacts: Area of impact primarily pole ward of 55 degrees Geomagnetic Latitude.
Induced Currents - Power grid fluctuations can occur. High-latitude power systems may experience voltage alarms.
Spacecraft - Satellite orientation irregularities may occur; increased drag on low Earth-orbit satellites is possible.
Radio - HF (high frequency) radio propagation can fade at higher latitudes.
Aurora - Aurora may be seen as low as New York to Wisconsin to Washington state.
2021_04_23