Look what I bought on ebay
Moving the dish - another eBay adventure
Sun, 06/06/2010 - 21:48 — peter
"Hi Dear, look what I bought on eBay today, a bargain at only $100"
All I have to do now is pay for it and pick it up. The seller lives a trivial 700km away, just outside Geelong in Victoria. He said it was recovered from the Mt Macedon transmitter station some 100km to the north, both the mounting points had rusted significantly and it was removed before it came down on its own terms. He had owned it for about 12 months and at some time the kids thought it might be a trampoline, hence the sizable dent in one panel. Having failed as a trampoline, the owner and his kids decided it had to go.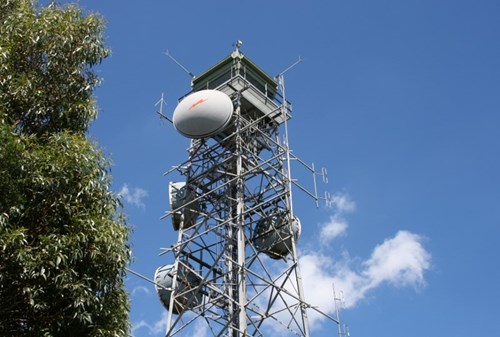 One of the microwave transmission towers on Mt Macedon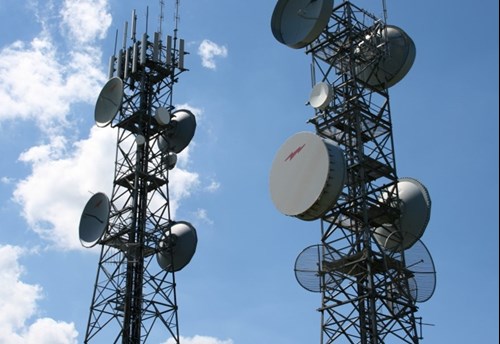 A couple of other microwave transmission towers on Mt Macedon (there are more, but not on these images)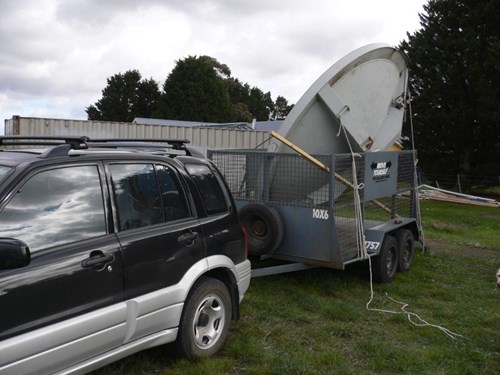 A couple of days later, my brother-in law Tony Davies and I arrived in Geelong with a caged trailer I had hired after having carefully read the oversize road rules for the states of SA and VIC. Convinced we were legally able to transport a 3 metre antenna, we began.
We´re ready to roll and the wind is picking up from the west, it could be a slow trip home. I picked a route off the main highway to avoid attracting unwanted attention. By the time we hit the Dukes Highway, it would be dark and no one would notice us from a distance.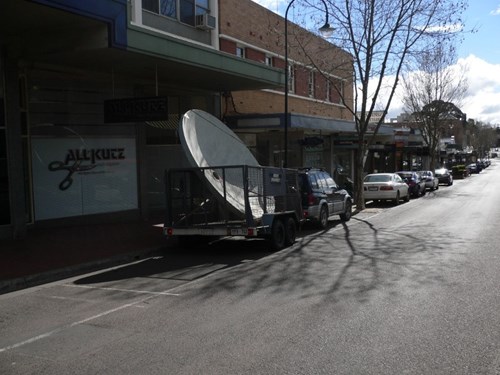 Some hours later and our first fuel stop at Castlemaine, Victoria for lunch. At times we were only able to reach top speeds of 70km/hour flat out, the headwind had become so strong. Being a Monday it was awfully quiet in town, perhaps we scared the locals away.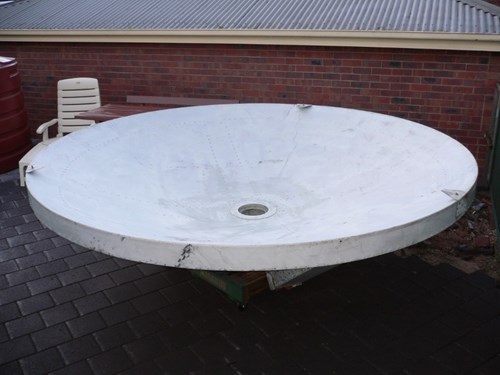 Some 15 hours and 3 tanks of fuel later we arrived home, tired from a long but uneventful trip. The wind eventually abated and we were able to cruise around 100km/hour at times along the highway. Strangely, I didn´t see or hear from Tony for a while after this trip. It is a bit hard to see here, but there is a 10cm bulge on the panel closest to the front right of the image.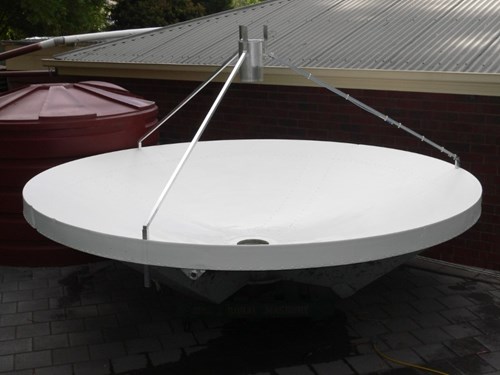 Some panel beating, a little metalwork for the feedhorn supports and several (7) coats of Solaguard paint to hold it all together.
I think I´m ready to start a new endeavour in radio astronomy.